Heavy Gear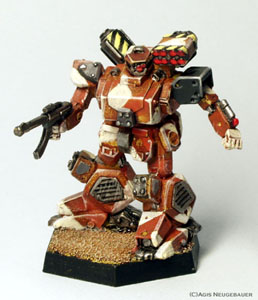 Heavy Gear has been called by many the finest science-fiction game on the market. A rich world has been painted in the many supplements available, a world that is at war with itself. Heavy Gear, definitively not your father's Giant Robot game!
Basic Premise: human colonies caught in interstellar war; "Tom Clancy's Mecha"
Genre: politico-military science fiction, mecha/giant robots
Primary Locales: habitable planets, ground warfare
Default Character Role: military, though many others are possible
Back Story: The year is 6132. More than three hundred years ago, a political crisis on Earth caused it to abandon its colonies and retreat into isolation. Since that fateful day, the former colonists have adapted to their new home planets and evolved into distinct societies. As our story opens, the former colony of Terra Nova is recovering from the War of the Alliance, wherein they successfully repelled a surprise invasion attempt by a newly imperialist Earth government. Victory was short-lived, however: the power brokers of Terra Nova are restless once again. No one seems to know or care what is happening to the rest of the human colony worlds -- an oversight that might have devastating consequences in the future...
I really, really like the backstory, design and the whole visual appeal of Heavy Gear. I am not sure about the rule system. As usual this is not stopping me to paint some minis.