My winning entry for the DP9 2005 Heavy Gear Combat Squad painting contest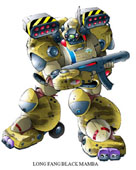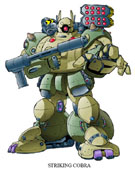 DP9 was running an online painting contest until 11.11.2005. I was fortunate enough to win the contest. There is a corresponding topic on the DP9 forum and I also put the minis on CoolMini.
The contest was a good opportunity to dig out my Gear models, dust them off and finally paint some of them. Since I like the round look of the southern Gears a bit more I decided to paint an Southern Elite Combat Group.
1 Command Gear - King Cobra

3 Heavy Trooper Gears (2 Black Mambas)

1 Specialist Gear (1 Spitting Cobra)
So how to paint them? Recently I bought the two "The Art of Heavy Gear" books. I noted that most of the Gears in the artwork are coloured in pastels and bright tones. Camouflage is used but is not standing out. I also wanted a bit different posture on the minis. Some small conversion were done. Twisted waist, realigned legs; etc.
So I decided to use lighter colours and NO camouflage at all on my Gears. All in all I like the effect. Compared with the 2 artwork pictures above the minis seem to justify my decision.
Scroll below to get a more detailed view of all 4 minis from every angle.