Paratroop Cadre
While the Black Mamba's standard airdrop capability allows many Southern Cadres to take advantage of aerial insertion, only Paratroop Cadres are dedicated to airborne operations. Equipped with Gears specifically designed for long operations behind enemy lines, Paratroop Cadres are employed as commandos or infiltrators. They often work in combination with more conventional forces, which move in to provide support and resupply after the initial landing.

A Paratroop Cadre consists of 3 Jäger Paratoopers and one Black Mamba.
The Jägers were no big deal, I used the deluxe kneeling and running minis and equipped them with all the necessary para upgrades (airbreak on the lower leg, antennas from Minimaniac, para rifle and chassis reinforcement).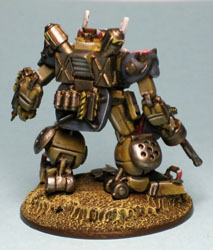 You have the option to upgrade a Jäger to an Iguana Paratrooper. Since I still have some old style Iguanas lying around I converted one into an Iguana para. You can see the greenstuff work on the picture above with the Jägers. The crash bars are from Old Crow, the rest are the DP9 para upgrades.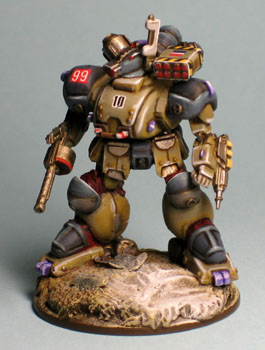 Now it was time to build the command Gear. The Black Mamba may swap its MAC for a paratroop Rifle, in addition it can be equipped with a Satellite uplink making it effectively a Razorfang Para Black Mamba.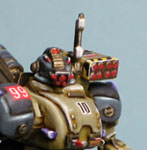 Since there is no specific model for this Gear some conversion work was necessary.
The weapon swap was simple, since I purchased some Para upgrade kits from Minimaniac's old website. So I already had some Para rifles. There was a Razorfang BM on the DP9 site, but it is no more available.

I searched my vehicle companion books and the 2 Heavy Gear Art books for some illustration and came up with only 2 pictures. So I had to use some imagination and greenstuff on the helmet and a plastic rod on the back. The rod was sanded into the rounder shape on the top to look suitable. Please note that the different looking shoulders are just painted on and not actually sculpted.
The antennas on most Gears are from Minimaniac upgrade sprues. It is also possible to cut one from thin Plasticard or take a useable piece from a 28 mm kit (Infinity, 40K Tau etc.).
To make the command Gear stand out even more I sculpted a Stone Head face on the base, you can see it from above.