Star Wars
Count Dooku by Knight Models and Softplastic Droids - by WotC

Count Dooku by Knight Models and Softplastic Droids - by WotC

Sith Apprentice

This model is inspired by some of the Sith dresses used in the SW-TOR online game. The mini is an Infinty Reverend Moira, left arm is from a YuJing Zhanshi Hacker and the Lightsword is just a plastic rod.

Since WotC acquired the rights for the Star Wars RPG they have also brought out some minis and the collectable Star Wars Miniatures game. A streamlined D20 mini game that played well enough to get me interested. The game is now discontinued, but you can still get some cheap miniatures on eBay or specialised stores.

The minis are nicer then the old West End minis (at least IMO).

See: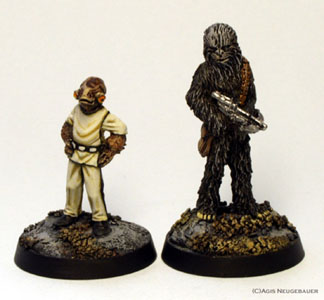 That does not stop me from painting even some of the old WEG minis!
A lot of people have asked me how I repaint the minis. If I remove the prepaint etc. I am not stripping the paint entirely, on particular thick areas I am scratching the paint away and most of the time I remove the mold lines. Then a thourough rub with a paint thinner to remove all grease and stuff. After that a coat of matt varnish that my colours are better sticking. That's it.
The Master Yoda repaint. While painting the mini I realised how good this particular mini is sculpted. 2 thumbs up WotC for this one!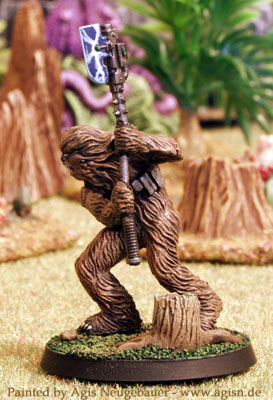 Wookie Commando Conversion

The conversion is based on the Wookie Commando from the Clone strike expansion. It is a simple weapon swap. I cut the weak Axe away and replaced it with a GW Power Axe and a plastic rod.

Some of the dreaded softplastic Vong done by WotC

"The Yuuzhan Vong ("Children of Yun-Yuuzhan", also called the Chosen Race, and sometimes incorrectly abbreviated to Vong, which implied that one was disowned by one's family and one's gods) were a sentient species which nearly destroyed the New Republic, and were responsible for the deaths of nearly 365 trillion sentients during their invasion of the galaxy." Wookiepedia

For me the Vong story line was simply the best of the expanded universe so far. I know that many did not liked them and think that they are not fitting into the SW universe, for me they were a very believable villainous race.

Softplastic Republic Commandos - all by WotC

Softplastic Droids - all by WotC

Softplastic Trade Federation Droids - all by WotC

Softplastic Super Droids - all by WotC

Softplastic Nightsister Sith Witch, Droid, Utapau Airborne Trooper and Scorch from the Republic Commandos - all by WotC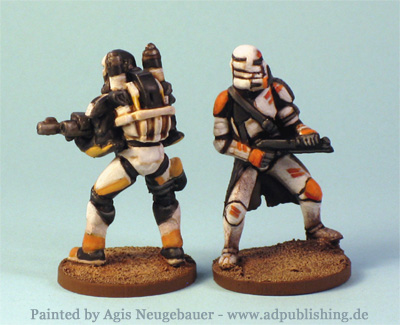 I am a confessing fan of the animated "Clone Wars" TV show. The 4th season was very much to my liking, especially the last episodes were IMO great.

Enough to get me into repainting some more minis of the softplastic miniature mountain I have collected!

Softplastic Republic Commandos - all by WotC

Republic Gunship - by Revell

Bounty Hunters and Wardroid

The Droid is from Pig Iron, both Bounty Hunters are Infinity (Pan O) models with head swap. IIRC the female head is a Hasslefree one, while the Gran is from a soft plastic SW mini.

Gran Bounty Hunter