1:100 (or 15mm) Italian
Folgore Paracadutisti squad - by Eureka

Folgore Paracadutisti 47/32 Anti Tank Gun Team - by Eureka, gun by Skytrex

Folgore Paracadutisti 47/32 Anti Tank Gun Team - by Eureka, gun by Skytrex

Semovente 90/53 with Ammo Tractor and crew - by Battlefront FoW

Semovente 90/53 with Ammo Tractor and crew - by Battlefront FoW

Carro Commando M41 - by Battlefront FoW

Folgore Paracadutisti and Carro Commando

Folgore Paracadutisti and Carro Commando

Gear Krieg - Italian Combat Walkers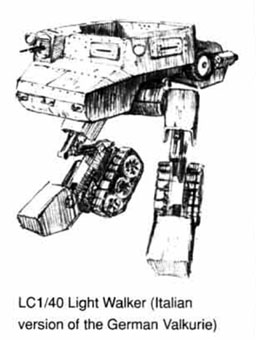 The Italians, much like the Russians, were late adopters of the walker, which they deemed too complex and not combat-proven. The first models in service were Panzer Kaempfer purchased for evaluation from the Germans, mostly Loki and Walkuere.
As the value of the new vehicle type became clear, Mussolini insisted that Italy be able to produce its own walkers. To save time and efforts, the drive trains and computators were largely copied on the German models available.
The armoured hulls and weaponry were adapted from existing tanks, suitably modified to fit the new systems. Because of this, the Italian walkers suffered from much the same trouble as the tanks themselves.
There are two models established in the Gear Krieg background:
The LC1/40 Light walker and the LC42 47/32 Medium Walker. The light walker used the drive and legs of a Geramn Walkuere, while the LC42 was based on the heavier Donner/ Thor walker. Following this lead I started the conversion with the legs of the corresponding German walker models.
LC1/40 Light walker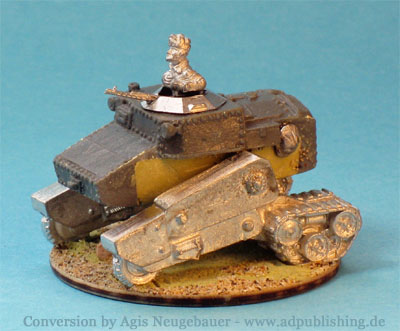 The hull looks IMO similar to a Fiat L6/40 Light Tank - A two-man light tank. I bought the L6/40 kit from Battlefront and used a cupola from the Walkuere kit, added a German MG and an Italian tank driver. Mount the Walkuere legs and your LC1/40 is done.
The resin hull has to be filled with milliput or a piece of plasticard.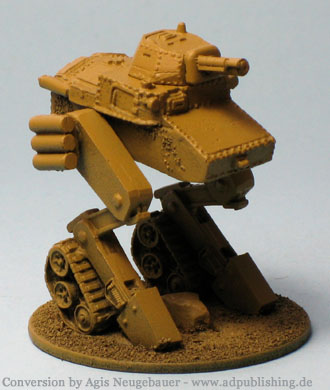 Since you get two tanks in the FoW blister I decided to build another one, this time using the turret. One turret received the 20mm Breda while the other one got a flamer / MG from the Shiki kit.
LC42 47/32 Medium Walker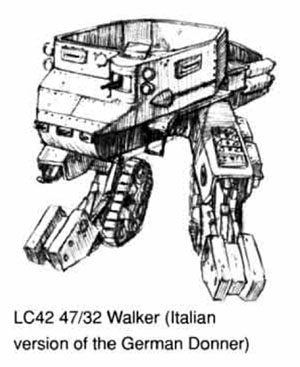 The LC 42 is based on a Semonvente 47/32 su L6/40. This hull really fits the bill. I used again a FoW kit.
Fill the space for the track and add the tankers from the kit. I also used the 47mm gun since the LC42 is using the same gun.
To achieve a heavier look (just adding the hull resulted in a pinheaded model) I added Walkuere arms and grenade launcher.
On the left arm I attached a rare earth magnet to mount a German 3.2 cm gun or a Laser.
Works for me!